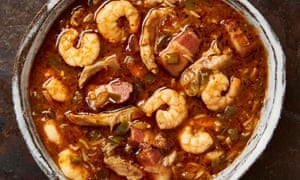 Photograph: Louise Hagger for the Guardian.
If you read my previous post you will understand why I have chosen this Yotam Ottolenghi's recipe tonight. In his latest column in The Guardian, Yotam waxed lyrical about his love for the cuisine of New Orleans, which he found both complex and cryptic. As an Ottolenghi enthusiast myself, I don't need much encouragement to follow the master. I will be cooking this dish this coming weekend.
Chicken and prawn gumbo
4 chicken thighs, skin on and bone in
Salt and black pepper
60ml vegetable oil
70g plain flour
3 garlic cloves, peeled and roughly chopped
1 large onion, peeled and finely diced
2 green peppers, deseeded and finely diced
2 celery sticks, finely diced
1½ tbsp Cajun spice blend (make your own or buy ready-made)
300g peeled raw prawns
1 litre chicken stock
2 tbsp tomato paste
200g smoked pork belly (or smoky bacon), cut into 2cm pieces
200g cooked basmati rice (ie, made from about 80g uncooked rice)
Season the chicken with a quarter-teaspoon of salt and a generous grind of black pepper. On a medium flame, heat a tablespoon of oil in a large, heavy-based pan for which you have a lid, lay in the chicken thighs skin-side down and fry for four to five minutes, until golden brown. Turn the thighs, cover the pan, reduce the heat to medium and cook for 10 minutes, checking once or twice that the chicken isn't sticking or burning (there should be enough fat in the pan for this not to happen). Transfer the chicken to a plate, leaving the fat in the pan (you should have about two tablespoons).
Add another three tablespoons of oil to the pan and warm gently on a medium heat. Add the flour, whisk to a smooth paste, then cook, whisking often, for 15-20 minutes, until the roux turns into a dark chocolate-coloured paste. Add the garlic, onion, peppers, celery and spice blend, and cook for five minutes, stirring often. Roughly chop five prawns, add to the pan and cook for five minutes, then pour in the stock, 350ml water and the tomato paste. Stir in the smoked pork and a teaspoon of salt, then leave the gumbo to simmer, stirring occasionally, for 20 minutes more. Meanwhile, remove the skin from the chicken thighs and tear the flesh off the bones in rough 4-5cm chunks.
Once the gumbo has simmered for 20 minutes, stir in the chicken, cook for 10 minutes more, then add the remaining prawns and cooked rice. Check the seasoning, simmer for a final three minutes, until the prawns are just cooked, and serve hot.
This is heavenly food from New Orleans. So, the first melody has to be Dixieland proper. Stand to one side because the saints go marching in, led by the one and only, Mr Louis Armstrong.
That gumbo is thick and filling. That's the way I want my music tonight. Preferably with a bass-driven helping and a guitar-led consistency. Enter Black Sabbath's Paranoid.
Food so exotic makes want to explore the same in music. I love Soapkills and their laid-back sound.
We go as we came. With Armstrong. I have never included the same musician twice in this section. There is enough music to go around. But, for some reason this recipe has given me the New Orleans bug and I cannot resist another dose of good ol' Dixieland. Enjoy.
Next post: "Thoughts in Progress", to be published on Saturday 13th May at 6pm (GMT)