T

he mumbling is gone. The dark lighting has faded. The slow-paced action is no more. The queen's head has kissed the neck goodbye and rolled down. To the relief of some, Wolf Hall has ended.
Count me out of that group, please. I loved the series.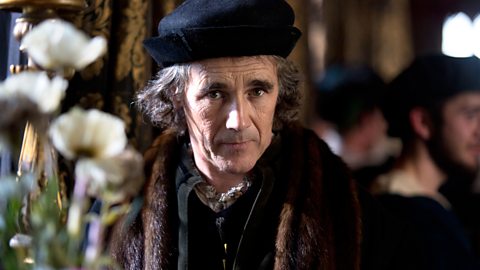 Mumbling? Moi?
For those who do not reside on the British Isles and who are therefore not familiar with the recent six-week-long BBC programme, let me explain. Wolf Hall is based on the first part of a trilogy of historical novels by the British writer Hilary Mantel. The author, currently working on the third and final instalment, stands to score a hat-trick of Booker Prizes after Wolf Hall and its follow-up Bring Up the Bodies won her the award.
I had my doubts about the series, if I am being honest. There has already been one adaptation for theatre, so when the BBC version was announced, I somehow conjured up the words "cow" and "milk(ing)" unconsciously. How wrong I was.
I no longer judge literary adaptations for television, film or theatre in the same way I did twenty years ago. Each medium has its own language and deserves to be seen and analysed in its own right. That is how I approached Wolf Hall and I was handsomely rewarded.
The reworking of novel to series did not follow the original text to the letter and I know I was not the only one who appreciated this. There is a way in which the main character, Thomas Cromwell, is introduced by Mantel that is unique and unrepeatable. She feeds us titbits. Instead screenwriter Peter Kosminsky brings in a foreword in each episode in order to provide a historical context. Rather than dwelling on Cromwell's past, he goes straight in to present-day Henry VIII's court and gives us flashbacks to Cromwell's previous life as a way of explaining how he arrived at the position he occupies now.
Along the way we have excellent performances. Mark Rylance, of whom I had already heard a lot due to his role in Jerusalem, is outstanding. His is a masterclass on the art of "less is more". The way he acts out his part is like a tiger, crawling, stalking, hiding, until the moment comes to jump upon its prey. His manner is understated in Henry's presence. Away from him, he is all alpha male. Daniel Lewis, playing Henry VIII gives us a nuanced performance. I cannot remember the last time I saw a Henry VIII that was not a caricature of the famous king. Lewis's Henry, on the other hand, is vulnerable but irascible. Claire Foy as, the first plotting and later on hapless, Anne Boleyn, also rises to the challenge. Her encounters with Cromwell are full of the intrigue and back-stabbing so common in European courts at the time. Her transition from English to French and back to English is flawless and effortless. The fact that we all know the queen's fate does not detract from a suspense-ridden finale. I confess I had to divert my eyes away from the screen as the executioner hoisted the sword above his head.
It is not just the performances that make Wolf Hall a must-see. The lighting is top-notch, too. An example of this is Cardinal Wolsey's glowing red silk robe against the dark corridors of his residence.
Some viewers complained of too much mumbling and poor articulation. My thoughts on that are that when you are plotting against Rome or the king of England, the less audible you are the longer you live. The dim lighting took a battering as well. Yet, how to recreate 16th century England, or for that matter France, without resulting to natural light, or the lack of it thereof?
It is a paradox that a lot of people lay into the Beeb and question the TV licence most of us pay annually to keep Auntie going. Yet, when the BBC produces an outstanding series like Wolf Hall, many slag it off.
Final word from me. As long as you churn out programmes like Wolf Hall, keep up the mumbling, Auntie!
I recently went to see Selma with my wife on what turned out to be a double date on Valentine's Day. One of my wife's brothers came along with his partner and their daughter stayed home with our daughter; the two cousins catching up together.
Selma
was a lot better than I expected. The performances from both leading and supporting actors were excellent. They carried the emotions that their roles demanded. What stood out for me the most was to see three British actors portraying one of the more significant moments in the history of the US and pulling it off. David Oyelowo as Martin Luther King, Tom Wilkinson as President Lyndon B. Johnson and Tim Roth (in a smaller role) as Governor George Wallace made me forget completely that the three men on screen had been born in Oxford, Leeds and London respectively, so convincing were their accents.
And would you believe it? Hardly any mumbling at all.
© 2015
Next Post: "Piece of Me, Pieces of Havana", to be published on Wednesday 11th March at 11:59m (GMT)