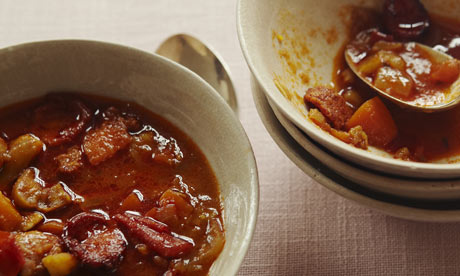 The chestnut and chorizo soup from Sam and Sam Clarke's Moro The Cookbook. Photograph: Yuki Sugiura for the Guardian
A

t the moment of writing this post the weather forecast is announcing snow for London. Unsurprisingly, I'm thinking of soup and meat, preferable the latter in the former. So, excuse me my veggies and vegan fellow bloggers, but tonight we're going for Spanish sausage. I have made a similar dish before but bearing in mind that my youngest is allergic to dairy products and sometimes chorizo has either milk or traces of it, it's not fair to cook this recipe veru often at home.
Chestnut and chorizo
4 tbsp olive oil
1 large onion, diced
1 medium carrot, diced
1 celery stick, diced
120g mild cooking chorizo, cut into 1cm cubes
2 garlic cloves, thinly sliced
1 tsp ground cumin
1½ tsp fresh thyme leaves, finely chopped
2 small dried red chillies, crushed
2 tomatoes, fresh or tinned, roughly chopped
500g cooked peeled chestnuts (fresh or vacuum-packed), roughly chopped
20 saffron threads, infused in 3-4 tbsp boiling water
1 litre water
Salt and black pepper
In a large saucepan heat the oil over a medium heat. Add the onion, carrot, celery, chorizo and a pinch of salt and fry for about 20 minutes, stirring occasionally, until everything caramelises and turns brown. Now add the garlic, cumin, thyme and chilli and cook for 1 more minute, followed by the tomatoes and, after about 2 minutes, the chestnuts. Give everything a good stir, then add the saffron-infused liquid, and the water, and simmer for about 10 minutes. Remove from the heat and mash until almost smooth but still with a bit of texture. Season with salt and pepper.
Any recipe with chorizo in it is a badass recipe in my book. That's why I need to open the set tonight with a badass song by a badass singer. I first saw Beth Hart on Jools Holland some months ago and was won over by her passion. Plus she's an excellent pianist. Great melody and as spicy as my dish tonight. Enjoy.
From Mexico comes a groovy and funky band making a timely political statement. I love the powerful lyrics and the video.
Mexican Institute of Sound's Mexico reminds me of those 2 small dried red chillies. They give a bit of a kick to my musical choices tonight. Fresh.
Just like cooking is all about beginnings (the smell of onions, chorizo, carrot and celery is mesmerising) Gomez's How We Operate is all about those first guitar chords. They stay with you long after the song is finished. Just like chestnut and chorizo soup. Magnetic.
Poland gave us the great Chopin and now it gives us Warsaw Village Band's. I love the clip
In the Forest
and the zany creativity behind it. It's just like the saffron threads releasing that wonderful aroma once they're in water. It's the extra ingredient with the oomph factor. Terrific.
Next Post: "Sunday Mornings: Coffee, Reflections and Music", to be published on Sunday 27th January at 10am (GMT)