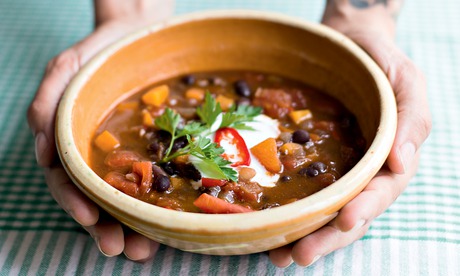 As I promised a few weeks ago I have "nicked" one of
Jack Monroe's
recipe and included it in my food and music section tonight.
Jack Monroe
is one of the most inspiring cooks around at the moment. The fact the her recipes do not cost an arm and a leg is also a plus. I hope you enjoy the dish below.
Mexican chocolate chilli and black bean soup
Serves 2
dried black beans 100g
onion 1
garlic 1 clove
small red chilli 1 or a pinch of chilli flakes
paprika a generous shake
ground cumin a generous shake
oil a splash
carrot 1
red wine 30ml
chopped tomatoes 1 x 400g carton or tin
vegetable stock cube 1
dark chocolate (3 squares, approx 20g)
fresh parsley to garnish
Put your beans in to soak the night before, or early in the morning if you're going to be cooking that evening. Place them in a bowl, cover with fresh cold water and then some, and cover the bowl with clingfilm. Leave for a minimum of 8 hours to soak.
When soaked, drain and thoroughly rinse your beans. Put them into a saucepan with fresh water and bring to the boil for approximately 10 minutes, then turn down to a simmer.
Meanwhile, peel and slice the onion and garlic, and chop the chilli (reserving a couple of slices for a garnish), then put them all into a saucepan along with the paprika and cumin. Add the oil and cook over a low heat until the onions and garlic soften.
Wash and chop the carrot, and add to the saucepan. Pour the red wine and tomatoes in, and stir through. Crumble in the stock cube, then add the dark chocolate and 400ml boiling water. Drain the beans and tip into the pan. Stir and leave to simmer for 20 minutes, or until the carrot is tender.
If you like, pulse the soup in a blender until smooth. Serve hot, garnished with a sprig of fresh parsley and a slice of red chilli in each bowl.
Tip: swirl cream, natural yoghurt or creme fraiche on top before serving.
The music to go with this recipe has to be feisty and you don't get more feisty than Joan Jett and the Blackhearts. Joan loves rock'n'roll, I love rock'n'roll and I'm sure Jack loves rock'n'roll, too. What with that paprika and the generous shake...
The follow-up to Joan is a little 90s number. Groovy Elastica's
Connection
is a throwback to Britpop times. It still sounds fresh, though.
Rita J's album
Artist Workshop
still gets heavy play from me at home. I love her energy and "in your face" attitude.
No Regrets
is a top tune. Enjoy.
Carleen Anderson's voice is like the small red chillies in Jack Monroe's recipe. It leaves a nice, warm feeling in the mouth, throat and stomach.
Leopards in the Temple
shows off this artist amazing vocal range. Beautiful.
This recipe was taken from The Guardian. Jack Monroe's book can be bought here.
Next Post: "Sunday Mornings: Coffee, Reflections and Music", to be published on Sunday 16th March at 10am (GMT)